The Dream Job For Hospice of Western & Central Mass. Social Worker
March celebrates National Social Work Month. At Athena Health Care Systems, we want to recognize our Social Services Departments and all the work they do, the contributions they make, and the impact they have on our residents and staff. Throughout the month of March, you will meet some of the faces behind the departments across our centers in Connecticut, Massachusetts, and Rhode Island. 
PITTSFIELD, M.A. — Being a Social Worker at Hospice of Western & Central Massachusetts was a "dream job" Julie Frost never knew she wanted.
She joined four years ago after spending 10 years working in long-term care. She had an "interesting" start to her career in healthcare, working on the ground floor of a traumatic brain injury unit. A coworker suggested she get into social work and has been doing it since.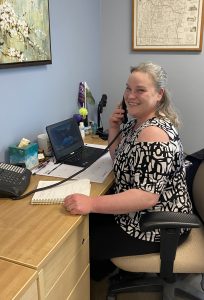 "I've always loved what hospice stood for when I was in long-term care, that [tender, love, and care] that the people provided that those at end of life deserved," she said.
When the position opened at Hospice of Western & Central Massachusetts, she knew of the strong reputation and the quality of care they were known to provide and wanted to be part of that.
She said her day-to-day is ever-changing. Some patients she will see once a month depending on needs and desires while others require more attention.
"Sometimes with certain families, I just pop my head in every couple weeks to see how they're doing and sometimes I'm there two to three times a week depending on what people need. Making sure that the patient is safe in their environment whether it's a skilled nursing facility, assisted living, or a home environment," Frost said. "If there's an admission or somebody's transitioning or declining and having a rough time with that, I go and provide that support."
When asked what she enjoys about her job, her reply was "everything." She tells people, if it's not medical or spiritual, that's where she comes in.
She says it's special and intimate to be a part of the end-of-life because you get to experience moments that only happen at that time.
"You actually get to provide the support and the care that you wanted to. That you went to school to sought out to do," she said. "I feel accomplished every day in my job, even the little things I feel a sense of self-gratitude and honor."
Frost gets to be there to help with how the patients and their loved ones are feeling whether that's grief, love, fear, or any other emotion. Many loved ones may grieve before their family member has passed away, especially with diseases like dementia where the decline may happen over years or very quickly. She tells people there is no wrong way to grieve except not to.
"I've seen times of great peace and there's just not enough words to describe what this job is and what I get to see. You shed some tears too. I guess, if I don't, it's time to get out because then you're too calloused," Frost said.
There's a story of a man that she will carry with her forever. Tony, a veteran who lived alone, stole her heart. He didn't want help and didn't have any family who lived nearby. Frost and another nurse would visit him twice a day for two weeks for support. Many said Tony was "closed off" and "against the world," but he trusted Frost and the nurse.
He shared everything he worked his life for with the two including his bank account information and that he wanted to be buried in his military uniform. Frost says Tony understood his life was coming to an end and needed to trust them. He agreed to move into an assisted living facility. Frost and the other nurse rode behind Tony as the ambulance transported him to his new home. They could see him through the back window with a smile on his face and his Navy cap on his head.
After settling into the home, Frost says Tony lied back in bed and just relaxed. It was a moment of peace she had never seen before. She said he knew he was safe and that his house would be safe, too. Tony passed away that morning.
Frost carries this memory with her daily and affirms her belief that once people feel at peace and are truly comfortable within their body it will follow the natural course of life.
Follow Athena Health Care Systems on Twitter and Facebook & Hospice of Western & Central Massachusetts on Facebook. Interested in a career with Athena? Click here!
MORE FROM ATHENA