Hospice Myths Debunked: Uncovering Truth About Hospice Care
In November, we celebrate National Hospice and Palliative Care Month, recognizing the vital support provided by hospice and palliative care. These services offer comfort, care, and dignity to millions of individuals nearing the end of life. Each year, our dedicated teams at Hospice Services of Massachusetts and Hospice of Western & Central Massachusetts assist hundreds of patients and their families in making informed decisions about hospice care.
Dr. Krista Santilli-Grace, Chief Medical Officer at Athena Health Care Systems, breaks down some of the common myths that our hospice teams get asked:
Myth 1: Hospice means giving up hope.
Truth: Hospice focuses on enhancing the quality of life, providing comfort, pain management, and emotional support, allowing patients to live fully in their remaining time granting their end-of-life wishes. The care focuses on providing compassion during their final stages of life, typically with a life expectancy of six months or less. The services follow holistic approaches addressing the physical, emotional, social, and spiritual needs of the patient and their families.
Myth 2: Hospice is only for the elderly.
Truth: Hospice care is not limited by age. It's for anyone facing a life-limiting illness, regardless of their age from infants to elderly.
Myth 3: Hospice is a place you go to die.
Truth: Hospice services come to you. Care can be provided in various settings, including patients' homes, nursing homes, assisted living facilities, or specialty hospice homes. It's about bringing compassionate care to the patient wherever they are.
Myth 4: Hospice is only for cancer patients.
Truth: While many hospice patients have cancer, hospice care is also provided for individuals with other life-limiting illnesses such as heart failure, dementia, chronic kidney disease, ALS, among others. Centers for Medicare and Medicaid set forth eligibility requirements that patients would have to meet to receive hospice services.
Myth 5: Hospice care is expensive.
Truth: Hospice care is typically covered by Medicare, Medicaid, and most private insurance plans. Financial concerns should not prevent anyone from seeking hospice care.
Myth 6: Hospice only provides medical care.
Truth: Hospice care includes a multidisciplinary team of professionals, including the hospice medical director, hospice nurses and aides, social workers, bereavement counselors, spiritual clergy, volunteers, and more. Art, music, and pet therapy could also be supportive services in place for patients. All team members provide comprehensive support, addressing physical, emotional, social, and spiritual needs.
Myth 7: Hospice speeds up the dying process.
Truth: Hospice neither speeds up or delays the dying process. It focuses on providing comfort, managing symptoms, and improving the overall quality of life during the patient's remaining time.
Myth 8: Once you start hospice, you can't stop.
Truth: Patients and their families can choose to stop hospice care at any time and resume curative treatments if they wish. After coming off hospice, the patient and family can also re-elect their hospice benefit at any time if curative treatments are no longer the course of action.
Myth 9: Hospice is only for the patient, not the family.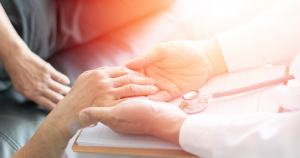 Truth: Hospice care extends to the entire family, and even friends, offering counseling, support groups, and bereavement services to help family members cope with the emotional challenges of their loved one's illness.
Myth 10: Hospice is only for the very end of life.
Truth: Hospice can be most effective when initiated earlier during a terminal illness. Early involvement allows patients and families to benefit from the full range of services and support that hospice offers.
Myth 11: Hospice services end once the patient passes.
Truth: Hospice provides bereavement support to families for up to a year after the patient's death. The hospice team can also provide grief and family counseling before the patient's passing for families who need extra support and resources to cope with their loved one's disease progression.
Myth 12: Palliative care and hospice are the same.
Truth: Palliative care focuses on managing pain and stress related to life-limiting illnesses, allowing patients to pursue curative treatments concurrently. Hospice care, on the other hand, provides specialized support for patients approaching the end of life. While both are related, it's essential to discuss the differences with your medical provider to decide the best course of action based on your needs, preferences, and stage of illness.
To learn more about Hospice Services of Massachusetts and Hospice of Western & Central Massachusetts and the services provided please call us at 866-991-0049.
Follow Athena Health Care Systems on Twitter and Facebook. Interested in a career with Athena? Click here!